2016 UAEA Art in the Sun Conference
2016 UAEA ART IN THE SUN CONFERENCE will be held, Feb. 26th - 27th, 2016 location Hurricane High
Thursday Feb 25th, 12:00 noon - Paint Out  - Meet up at Hurricane Heritage Museum,
 Address: 35 W State St, Hurricane, UT 84737
then head to Grafton Ghost Town
Directions from Hurricane Heritage Museum to Grafton Ghost Town
1. Head east on State St. toward main St. (2.7 m)
2. Turn Right onto UT-9/ w. 500 n. (15.7 m)
3. Turn Right onto Bridge Road (.3 m)
4. Keep Right to continue on 250 S. / Grafton Rd. (1.9 m)
5. Continue onto 250 S. (1.0 m)
6. Slight Right (0.3 m)
7. Turn Right (0.1 m)
Directions to Grafton from Rockville - In Rockville on UT9 turn south onto Bridge Rd, take a right at the intersection, then follow the signs to the Grafton ghost town. The cemetery is about a hundred yards away from the buildings. - See more at:http://www.roadsideamerica.com/tip/11935#sthash.IpVi8PiN.dpuf
Please bring the following items
Weather appropriate clothing 
Camping chair or something to sit on
Water/food/snacks
Work gloves
Sketchbook or your favorite drawing surface
Easel-if desired
Favorite medium
Other Events
The 2016 NAEA National Convention will be held March 17-19 in Chicago, IL. Visit http://www.arteducators.org/convention for more information.
Donate your art for the Catherine Ford Student Scholarship Fund
We will be accepting donations for the silent auction which will be held at our February Conference.  PLEASE start making and saving artwork to donate.  Each year artists/teachers donate their paintings, drawings, prints, handmade jewelry, pottery, ceramics, and sculptures. All of the proceeds go towards giving a scholarship to a deserving art student.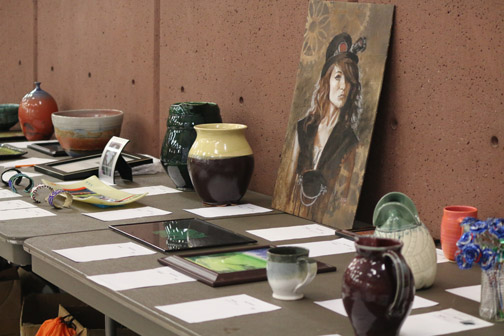 Also, remember it is also a good chance to buy artwork from your esteemed colleagues so save your pennies!